United Way Helps Americans Achieve Economic Mobility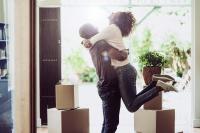 Impact Goal: United Way's economic mobility goal is to ensure that individuals and families improve their socio-economic status. Economic mobility, or the ability of an individual or family to change their financial status, can have a multi-generational, positive impact on overall well-being by increasing access to quality healthcare, improving housing options, and broadening educational opportunities. Yet, moving up the economic ladder is difficult. Education that leads to a good job is essential. Take control of your money.
Target Outcome: Individuals have the knowledge, skills, and supports to make choices that increase financial stability and advance economic mobility.
Strategy: Increase financial management knowledge and skills
Approaches:
Connect individuals to financial education and/or coaching services to improve money management skills in order to pay bills on time and stay within a budget.


 

Connect individuals to financial education and/or coaching to improve their credit, decrease their debt, and increase eligibility for prime rates on financial products.
United Way of Northwest Alabama has partnered with our local Listerhill Credit Union and Banzai to bring you clear, in-depth lessons that help you dive into the financial topics you care most about. Topics include:
Personal Financial Wellness Assessment. The Financial Wellness Assessment analyzes your spending, budgeting, and saving habits so you can reflect on how you're currently managing personal finances.
Learning to Budget. Budgeting isn't about restriction, it's about prioritizing. The best way to avoid financial strain is to know where your money is going and plan ahead!
Basic Saving. Whether you're saving for a rainy day or a rainy trip to London, mastering the basics of saving can help you reach your goals.
Financial Coaching and more!
As many as one-third of working Americans do not earn enough money to meet their basic needs. Wages have not kept pace with the rising cost of housing, healthcare, and education and currently, 40 million Americans are working in low-paying jobs without basic health and retirement benefits.  For families walking a financial tightrope, unable to save for college, a home, or retirement, United Way is here to help.